Simulation for the aerospace and defense industry
We help you reduce costs throughout the product lifecycle and solve the most complex aerospace engineering challenges through virtual prototyping.
TALK TO AN EXPERT
Solve critical problems and accelerate aircraft development
Our simulation provides the means to overcome key challenges in the aviation industry, such as autonomy and electrification optimization, by predicting problems in the early design stages and reducing costs even in products in operation, through digital twins.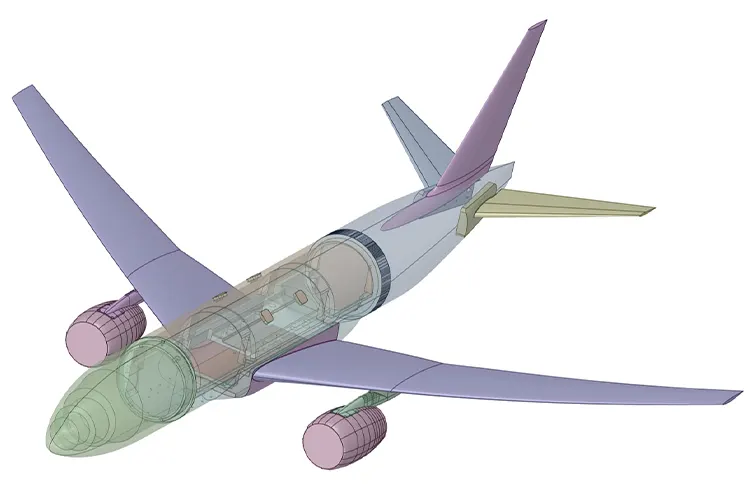 Solutions for Sustainable Aviation Development
Antennas
DESIGN AND INSTALLATION
Insert sensors in any environment to evaluate the property of interest. Predict component performance, interference, and installations, reducing lab testing costs and gaining assertiveness in prototype manufacturing.
Air Mobility and Sensors
DEVELOPMENT & CERTIFICATION
Develop and certify new autonomous air mobility technologies of the future by testing "edge cases" in physics-based virtual scenarios, as well as sensors such as cameras, lidars, and radars.
Avionics and flight control systems
DEVELOPMENT AND CERTIFICATION
Analyze, develop, and certify, ensuring functional safety and mitigating cybersecurity threats, in embedded software quickly and accurately, without time-consuming flows and physical prototyping costs.
Aerodynamics and Aerostructures
DEVELOPMENT
Create advanced physics models through a multiphysics integration platform. Perform accurate analysis of critical components to develop quality and safe products, minimizing time and cost in the development cycle.
Aerospace Propulsion Systems
DESIGN AND OPTIMIZATION
Assess engine operating envelope, complex physical/chemical phenomena, and harsh operating environments. Improve safety, reliability, and durability while reducing weight, drag, fuel costs, and emissions.
"The demands of the aerospace industry, the specific market niches, and the urgency for positive cost-benefit ratios compress our possibilities to the maximum, making the margins of error regarding predictions minimal when comparing a project to the final product. Only good quality platforms to perform the necessary simulations can guarantee us these levels of accuracy, making ESSS a powerful ally to obtain these results."
Daniel Milstein
Technical and Operations Director
Airship do Brasil
"Our partnership with ESSS is critical for us in the sense that they not only help us accelerate building products but also build the process to make sure we get the level of safety we want. ESSS gives us very interesting and very powerful physics-based Ansys simulation."
Julio Bolzani
Head of Autonomous Systems
Embraer
"Embraer relies on ESSS and Ansys simulation for fast and accurate software production. Ansys has been part of the core of our software production tool chain for years and has been used successfully in several projects."
Pedro Nunes
Embraer
Leader of the E190-E2 Flight Controls Software Team
Blog post
5G and aircraft safety: How simulation can help to ensure passenger safety
LEARN MORE
We are ready to both understand and solve your engineering simulation challenges
Ask for a quote now: an ESSS (Engineering Simulation and Scientific Software) expert will contact you to point you in the right direction and help you successfully tackle your challenges in structures, fluid flow, heat exchange, optics, electromagnetism, and more to achieve a greater competitive advantage in the marketplace.
Ready to apply simulation and radically improve your products?
Learn more about the ESSS Institute courses