Ansys Fluent
Fluid Simulation Software
Ansys Fluent is the industry-leading fluid simulation software known for its advanced physics modeling capabilities and industry leading accuracy.
TALK TO AN EXPERT
TALK TO AN EXPERT
Ansys Fluent pushes the envelope of performance for computational fluid dynamics (CFD) simulation.
Ansys Fluent gives you more time to innovate and optimize product performance. Trust your simulation results with a software that has been extensively validated across a wide range of applications. With Ansys Fluent, you can create advanced physics models and analyze a variety of fluids phenomena—all in a customizable and intuitive space.
User-Friendly Interface
Single Window, Streamlined Workflow
Best-in-Class Physics Models
Parallel Capabilities for Meshing and Solving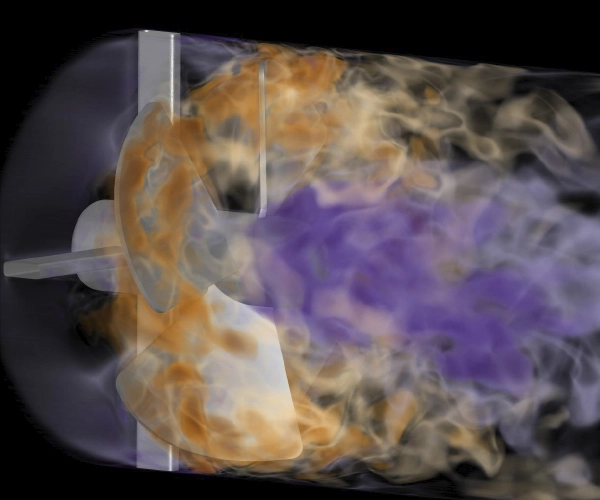 New features
Ansys Fluent has significant GPU technology advancements, accurate hydrogen modeling from production to consumption, workflow, and automation improvements.
Full Release of Multi-GPU Solver
Unleash the power of multiple GPUs for a broad spectrum of applications with the full release of the Fluent multi-GPU solver. This release added support for species transport, non-stiff reacting flows, enhanced numeric for LES simulations, sliding mesh, and compressible flows.
Hydrogen Value Chain Simulation
Address sustainability challenges with accurate hydrogen modelling throughout the value chain, including new Proton Exchange Membrane (PEM) and Alkaline electrolysis models for green hydrogen production and extended Polymer Electrolyte Membrane (PEMFC) and Solid Oxide (SOFC) models for hydrogen consumption in fuel cells.
PyFluent Expansion
A new embedded PyConsole brings PyFluent directly into the Fluent interface with support for centralized Python journaling, full scheme/TUI to python journal translation and usability features like auto-complete and a quick search of Fluent commands.
Embedded Parametric/Morphing Workflow
A new embedded workflow for parametric design optimization and morphing enables one to run parametric studies and design optimization, including morphing, directly within the Fluent interface, thus speeding up design cycles.
Virtual Blade Model
A Virtual Blade Model (VBM) replaces 3D rotors with actuator disks, introducing the rotor's effect as momentum source terms in the governing equations, increasing automation and productivity for aerospace and energy applications.
Direct ECAD workflow for PCB
Perform advanced electronics cooling analyses that can include condensation, evaporation, and more, with a new direct ECAD workflow for printed circuit board (PCB) that enables the import of an ECAD directly from the Fluent interface without additional software required.
We are ready to understand and solve your engineering simulation challenges
Ask for a quote now: an ESSS expert will contact you to choose the best software for your needs and help you successfully tackle your challenges in engineering. Start now and become more competitive in the market.
Ready to use Ansys solutions and radically improve your projects?