Simulation for the automotive industry
We are ready to help you deal with the most important technical challenges across the entire vehicle engineering chain.
TALK TO AN EXPERT
Save design and manufacturing costs and the time to market for your product
Our simulation tools can dramatically reduce project development time by meeting safety and regulatory standards and solving problems while still in the design phase.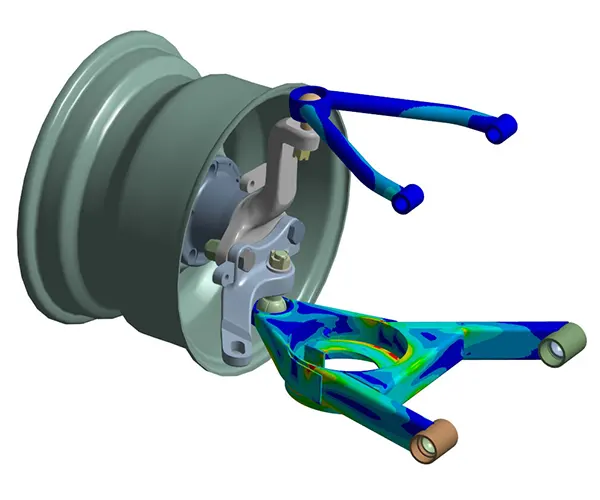 Virtually design and test extremely complex automotive products throughout their lifecycle
Batteries
MODELING AND SIMULATION
Multiphysics solutions maximize battery performance and safety while reducing costs and testing time.
Electric Motors
ANALYSIS AND VERIFICATION
Enjoy a complete workflow, from conceptual design to detailed electromagnetic, thermal, and mechanical analyses.
Power Electronics
DESIGN AND OPTIMIZATION
Efficiently solve the most complex project challenges, improving performance and driving innovation.
Ice Powertrain
DEVELOPMENT
Optimize powertrain designs to improve performance, fuel efficiency, and environmental targets.
EV Powertrain Integration
DEVELOPMENT
Integrate electric and hybrid vehicles, highly complex powertrain, their subsystems and components.
Chassis
OPTIMIZATION
Virtually evaluate factors such as structure, paint, brakes, suspension, steering, wheels, tires, and safety.
Electrical Systems
DEVELOPMENT AND VALIDATION
Simulate items such as ADAS systems and sensors, wiring, connectors, antennas, and electrical reliability.
Vehicle Exterior
OVERALL ANALYSIS
Optimize automotive exteriors by decreasing drag, reducing weight, and improving efficiency and fuel consumption.
Vehicle Interior
OPTIMIZATION
Improvement from comfort, climate and noise to the human-machine interface, using virtual prototypes.
Autonomous Vehicles
OVERALL ANALYSIS
Solve critical design challenges in ADAS system definition, hardware and software development, and validation.
Electrification
MULTIPHYSICS SIMULATION
Virtual development and validation for electric propulsion systems, ancillaries and high-voltage converters.
5G
MULTIPHYSICS SIMULATION
Simulate scenarios for connected vehicles, covering areas such as antennas, interference, and system interaction.
"We increasingly have development time pressure, a need to eliminate sample sentences and to innovate. In this scenario, simulation helps engineers make better decisions in projects, coming in the early stages to mitigate risks in development and avoid errors, as well as helping to meet reliability requirements for the automotive world."
André Ferreira
Senior Product Engineer - Powertrain Solutions Division
Bosch Brasil
"That's why we are customers and remain loyal: as long as the product is good and the support is even better, there's no reason to look for another alternative in the market."
Arthur de Paula Ferreira
Product Engineering Manager
Emicol
Success Story
Red Bull Racing Honda challenged for first place in the 2021 Formula 1 with the help of Ansys simulations
LEARN MORE
We are ready to both understand and solve your engineering simulation challenges
Ask for a quote now: an ESSS (Engineering Simulation and Scientific Software) expert will contact you to point you in the right direction and help you successfully tackle your challenges in structures, fluid flow, heat exchange, optics, electromagnetism, and more to achieve a greater competitive advantage in the marketplace.
Ready to apply simulation and radically improve your automotive products?
Learn more about the ESSS Institute courses