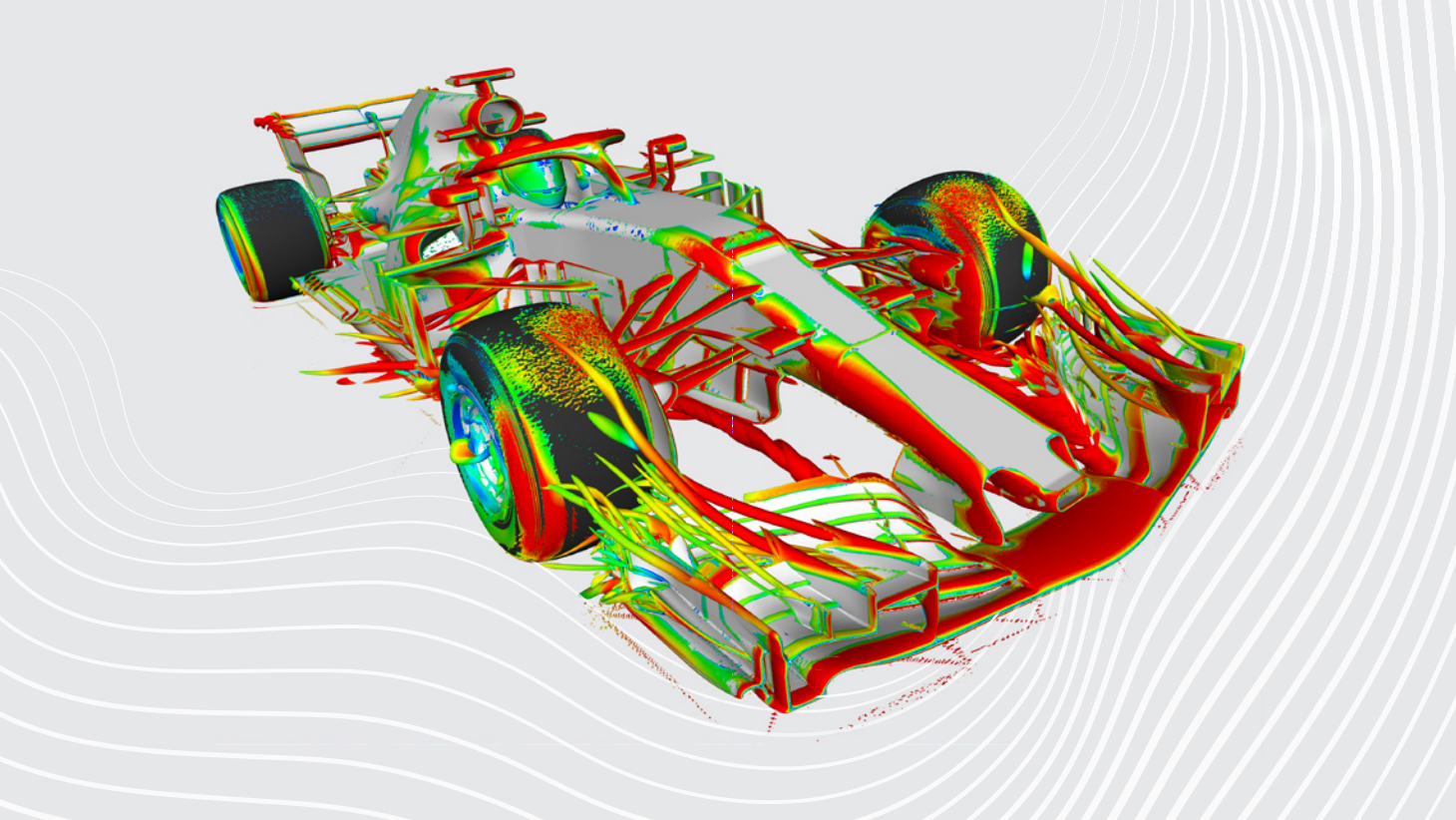 Red Bull Racing Honda challenged for first place in the 2021 Formula 1 with the help of Ansys simulations
Formula 1 racing fans who follow Red Bull Racing Honda are celebrating driver Max Verstappen's win as the world champion Formula 1 driver for the season after a dramatic last lap victory in the Abu Dhabi Grand Prix.
While the drivers' skills contribute significantly to this success, Formula 1 is ultimately a team game that depends on decisions made each week by a large contingent of management and technical personnel to prepare the cars for optimal performance on that week's racetrack. In addition to the widely varying shapes of the 22 racetracks on the annual schedule, there are also differences in altitude, temperature, weather conditions, and track slopes and surfaces, among many other variables. Formula 1 teams generally have just five days after a race on Sunday to re-engineer the car for the next testing sessions on Friday.
Red Bull Racing Honda, which started in Formula 1 in 2005, supplements their engineering team with Innovation Partners who help them meet these weekly challenges. Ansys has been an Innovation Partner since 2008.
Using Simulation for On-Track Success
Red Bull Racing Honda engineers use Ansys Fluent with TGrid Meshing, Ansys Granta MI, and Ansys LS-DYNA over the course of the racing season and in the off season to optimize the performance of their race cars.
According to Matthew Sorrell, Head of Aerodynamics Tools and Methods at Red Bull Racing Honda, "by working closely with Ansys, we get access to their developers to discuss problems, guide development of the tools, get advice from them as to how to better use the tools, and to give them ideas for their development as well".
"We get access to beta test features to test, but also to make sure it works on our applications. In many ways we are specialists and we're hopefully pushing the limits of the technology beyond the average user. We've found that the partnership has been mutually beneficial over the years", says Matthew.
Ansys Fluent and TGrid Meshing Handle Design Complexity
Red Bull Racing Honda engineers use Ansys Fluent for aerodynamics simulations to help optimize the car's design. For example, the focus may be reducing drag or increasing downforce, depending on the nature of the racetrack on any given week.
A major concern in using Fluent for aerodynamics simulations for Formula 1 race cars is getting the mesh right.
"We use Ansys TGrid to generate the volume mesh," Sorrell says. "The big bonus with TGrid is its ability to generate extremely high-quality boundary inflation layers for the very complex geometries of Formula 1 cars, reliably and robustly. TGrid gives us a very high quality, low-skewness, well-distributed and controlled CFD volume mesh."
The Team also use Fluent to optimize the cooling circuit around the power unit of the car, including simulating the flow of cooling fluid through pipes and heat exchangers, as the characteristics of each circuit could influence how much cooling is needed.
Ansys Granta MI Provides One Source of Truth
Because a race car's design may change radically between seasons, with the shape and materials of thousands of parts being modified, the use of Ansys Granta MI to capture and manage that data is essential. Storing the correct materials properties in one single repository provides complete traceability and ensures all members of the engineering team have access to the same materials data for consistency of design and quality of manufacturing. And with user access control and automated validation the risk of human error is removed.
"Before Ansys Granta MI was available, we kept track of materials using a series of databases and spreadsheets, with processes that were unclear and confusing," says Jamie Wheat, Head of FEA Tools & Tools Strategy. "By using Granta as our materials database, we have 'one source of truth' for all the materials for our components. Only certain members of the team can update the database. This has helped us build our confidence in our choice and use of materials."
Virtual Impact Testing with Ansys LS-DYNA
Driver safety is the number one priority in Formula 1, so each team must demonstrate the viability of their car's structure to the Federation Internationale de l'Automobile (FIA), the organization that writes the rules and maintains the standards for all Formula 1 competitions, before the season starts. Because physical impact testing is incredibly expensive and wastes materials, Red Bull Racing Honda engineers use Ansys LS-DYNA to virtually demonstrate that their cars are safe. This enables them to model, simulate and correlate all the impacts with real-world testing while limiting the amount of physical testing.
Learn more
To find out more details about how the Red Bull Racing Honda team uses Ansys simulation solutions to optimize their race cars every week for optimal performance at each racetrack, download a copy of the white paper "Red Bull Racing Honda's Use of Ansys Simulation Solutions Paves the Way to Track Success".
Article originally published on Ansys website.