Electromagnetic simulation
Our tools help you reduce expenses in development and shorten the time to market your electrical and electronic products.
TALK TO AN EXPERT
Create electronic and electrical products faster and with maximum resource savings
Count on ESSS's support to develop innovative products through engineering simulation, minimizing test costs, ensuring compliance and reliability, and drastically reducing development time. From micro to macro scale, optimize designs in areas such as chips, drives and electric motors, transformers, electromechanical actuators, sensors, electrification, electromobility, antennas, and communication networks.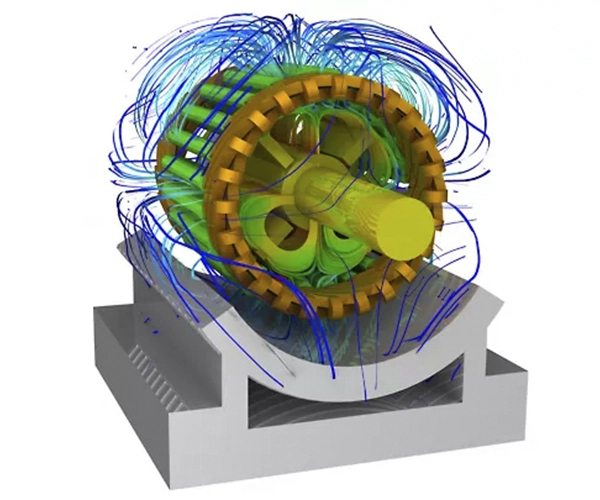 Reduce the design cycle, ensuring product validation, cost-effective, operable, and certification-ready products
Antennas
Perform electromagnetic simulations of the design and its interaction with the entire system, evaluating positioning, EMI/EMC interference, and much more.
Wireless systems
Model and analyze IoT and 5G devices, predicting reliability, signal and power integrity, and even interactions with the human body in wearables.
Chips, packages, PCBs, chassis
Virtually assess aspects such as thermal management, signal and power integrity, EMI/EMC analysis, and power supply, understanding the entire system.
Electric motors
Reduce costs and optimize size, noise, efficiency, and durability by evaluating from conceptual design to electromagnetic, thermal, and mechanical analysis.
Power Electronics
Simulate interactions between motors, sensors, and actuators with electronic controls, integrating magnetic, electrical, and thermal analyses.
Ansys electromagnetic simulation tools
Ansys HFSS
Accurately simulate high-frequency electromagnetic phenomena in electronic devices and systems, from microchips to antennas in cities and aircraft.
Learn more
Ansys Maxwell
Gain reliability for low-frequency simulations in electric motors, generators, actuators, sensors, transformers, and various other electromagnetic devices.
Learn more
We are ready to both understand and solve your engineering simulation challenges
Ask for a quote now: an ESSS expert will contact you to point you in the right direction and help you successfully tackle your challenges in electromagnetism, and more to achieve a greater competitive advantage in the marketplace.
Ready to apply simulation and radically improve your electronics?
"We were looking for solutions that could increase the quality of our electronic board development in terms of reliability, and that ended up inspiring the joint work we conducted with ESSS."
José Carlos Boareto
P&D Coordinator
CERTI
"On a turbomachinery project, we performed about 18 physical models and it took about eight months. We cut the development time in half using simulation without using physical prototypes."
Ricardo Naranio
Director of Research and Development
Delta Delfini
Learn about the ESSS Institute courses