Simulation for the energy industry
With ESSS support, you can apply simulation to optimize power generation processes and create innovative solutions that balance demand, cost, and environmental effects.
TALK TO AN EXPERT
Implement solutions for failure prediction, risk analysis, and develop new projects with simulation
Our simulation helps you create innovative solutions that focus on energy efficiency and comply with environmental and safety regulations. Gain competitiveness by analyzing the performance of equipment in different versions, reducing the number of physical tests, obtaining your optimal working version.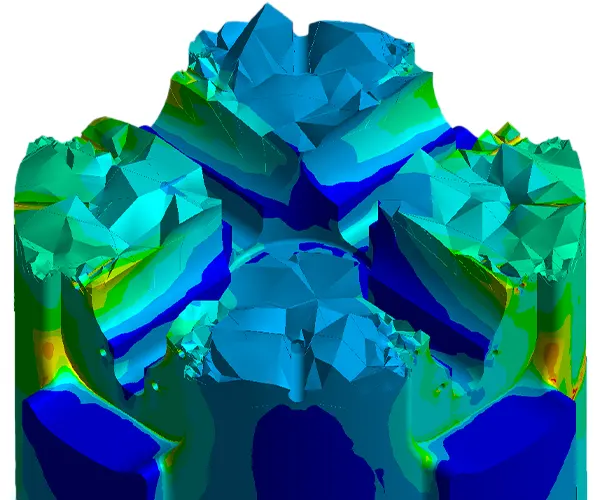 Cost-effective tools to ensure more safety and energy efficiency in your projects
Oil and Gas Extraction
MULTIPHYSICS ANALYSIS
Lower costs in oil and gas production and comply with safety regulations. Optimize processes from well drilling to refining and distribution with multiphysics scanning and simulation tools. Simulate harsh environments and integrate new technologies.
Wind Turbines
MULTIPHYSICS ANALYSIS
Design larger, more efficient turbines using structural simulation, simulate scenarios and improve performance with digital twins, and evaluate specific onshore and offshore conditions with fluid dynamic analysis.
Solar panels and heaters
MULTIPHYSICS ANALYSIS
Simulate different scenarios and avoid mechanical failures due to thermal loads and wind conditions. Reduce the implementation time of solar farms and ensure structural integrity throughout the panel's lifetime.
Biofuels
MULTIPHYSICS ANALYSIS
Decrease the cost and time for fabrication of bio-industrial equipment. Increase productivity and predictability in projects. Simulation benefits everything from industrial equipment manufacturers to the vehicles used in the harvest, to the maintenance of the plants themselves.
Decarbonization and Green Hydrogen
MULTIPHYSICS ANALYSIS
Create digital prototypes of low-cost hydrogen fuel cells and electrolyzers for promising decarbonization projects in the energy sector. Simulate all steps from hydrogen production, storage, and distribution.
Hydropower
MULTIPHYSICS ANALYSIS
Ensure proper flow and cooling of turbogenerators, understand flow speed profiles and temperature responses, optimize generator design, and select the best design for electromagnetic behavior to achieve optimal performance.
Predictive Failure Analysis
DIGITAL TWINS
Find the root cause of performance problems, improve production and schedule predictive maintenance. With digital twin technology, processes are done in real-time, which minimizes operating expenses and prevents accidents.
Exclusive Consulting
CUSTOMIZED SERVICES
You can count on a team of ESSS O&G experts focused on energy consulting to make the best decisions from the design stage to execution and monitoring. We help companies implement solutions specific to their needs, such as flow assurance, paraffin deposition and real-time risk mitigation.
"The only way to verify what is happening inside the equipment is through simulation. Sometimes you need to do different tests on your equipment that can take 1, 2 or even 5 years to develop. By using simulation, you can shorten the process and do it in half of the time."
Waldir Martignoni
Senior Engineering Consultant
Petrobras
"Physical testing takes about three months, while simulation can take from 10 to 50 days."
Daniel Fonseca de Carvalho e Silva
Research Engineer
Petrobras
We are ready to grasp and solve your engineering simulation challenges
No matter the size of your company or your engineering problem, you can count on our highly qualified experts to point you in the right direction and help you successfully tackle your challenges, supported by the most advanced simulation tools on the market.
Ready to apply simulation and digitize your processes?
Learn about the ESSS Institute courses