Fluid dynamics simulation
We help engineers make better, faster decisions through fluid flow simulation, from the design phase to products in operation.
TALK TO AN EXPERT
Powerful and highly accurate CFD solutions for every engineer
Our CFD (Computational Fluid Dynamics) simulation technology is used by some of the largest companies in the world for its superior computing power and accurate results that can optimize and predict the performance of products and systems. At the same time, it is user-friendly and accessible to engineers at all levels, in industries of all shapes and sizes, such as aerospace, automotive, and industrial equipment.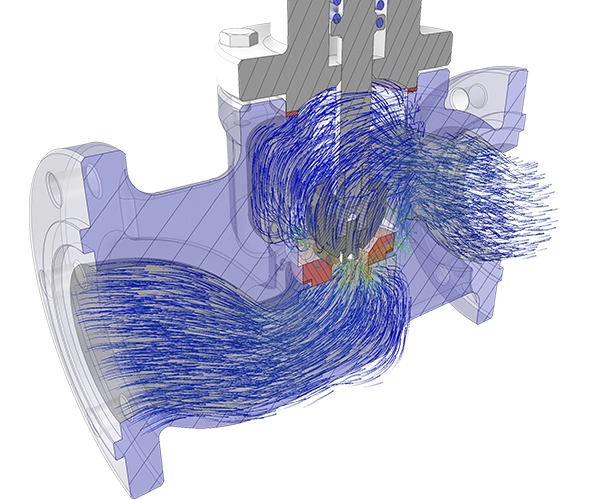 Simulation to support the design and manufacturing of hundreds of products
Battery Simulation
Analyze thermal and hydrodynamic performance under different conditions, maximizing performance and safety while reducing costs and prototyping time.
Aircrafts
Model in-flight icing, airflow around aircraft, and fluids at hypersonic speeds, including shock waves, plasma, and structural deformation.
Electric engines
Go from conceptual design to detailed electromagnetic, thermal, and mechanical analysis of electric engines.
Gas engines and turbines
Predict real-life fuel effects with precise algorithms that describe the thermodynamic behavior of combustion.
Energy generation
Develop physical models for complex multiphase flows, combustion processes, wind turbines, hydraulics, and refrigeration systems.
Propulsion systems
Test designs of internal combustion engines and ship propulsion systems, evaluating their hydrodynamic performance.
Industrial equipment
Simulate hydrodynamics and hemodynamics, diffusion and convection of fluid substances, optimize design, fluid flow analysis, and energy efficiency.
Vehicles and structures
Analyze aerodynamics, aerothermodynamics, engine combustion, and cooling systems. See how forces interact in deforming structures.
Nuclear reactors
Evaluate equipment cooling and find solutions to problems such as pressure drop reduction, drag optimization, lifting, or heat transfer.
Turbo-machines
Maximize performance in a jet engine, wind turbine, or turbocharger design. Analyze cavitation to define operating parameters and limits.
Electronics
Evaluate and predict heat transfer problems and the thermal performance of circuits such as computer processors, motherboards, and power supplies.
Medical equipment
Accurately simulate blood flow in arteries and veins and optimize medical devices such as stents and heart valves.
Sustainability
Optimize wind turbine projects, planning and management of water resources and contaminants, environmental pollution and gas dispersion.
Ansys fluid dynamics simulation tools
We are ready to both understand and solve your engineering simulation challenges
Ask for a quote now: an ESSS expert will contact you to point you in the right direction and help you successfully tackle your challenges in electromagnetism, and more to achieve a greater competitive advantage in the marketplace.
Ready to apply simulation and radically improve your products?
SUCCESS STORY
Red Bull Racing Honda challenged for first place in the 2021 Formula 1 with the help of Ansys simulations
LEARN MORE
"The ability to run optimization simulations in hours rather than days has important ramifications. Within the design schedule, there is only so much time to make recommendations on changes that can improve the aerodynamics of an automobile"
Ren Chao
Program Leader, Product Engineering/Predevelopment SAIC
Volkswagen China
Learn about ESSS Institute Courses