Simulation for household appliances
We work together to speed up the development and production of your products while maintaining reliability and reducing time-to-market.
TALK TO AN EXPERT
Deliver differentiated and sustainable products, faster and at a lower cost
We are ready to help your industry apply simulation to optimize the ideation, design, and manufacturing processes by evaluating alternatives and refining projects early on through virtual prototyping.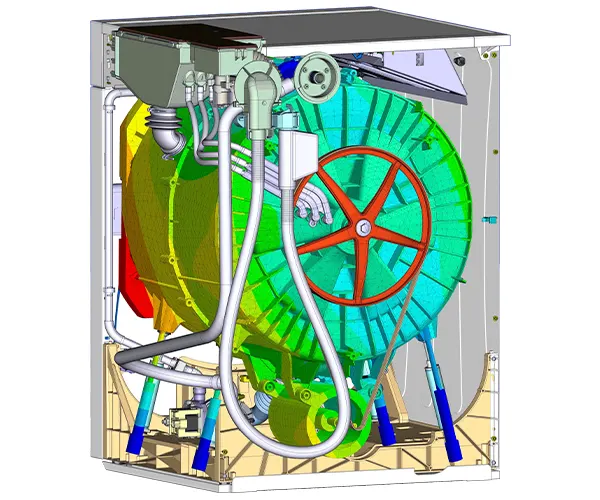 Solve complex and diverse engineering challenges
Thermal analysis
THERMAL PERFORMANCE
Select thermal management strategies and optimize the design. Reduce energy losses and improve thermal exchange operation, achieving excellent energy efficiency in products such as ovens and stoves.
Structural analysis
FEA SIMULATION
Evaluate mechanical components, sealing, resonance at operating frequencies, and load support. Perform linear and nonlinear static, dynamic, transient, fatigue, vibration, natural frequency, impact, and acoustic structural analysis.
Fluid dynamics analysis
CFD SIMULATION
Perform complex tasks involving the design and validation of fluid-dynamic behavior, cooling, thermal comfort, lighting, intake/exhaust, combustion, and emission prediction.
Particulate matter
DEM AND COUPLING
Accurately and cost-effectively simulate the flow behavior of particles and perform multiphysics analysis using coupled DEM-CFD and DEM-FEA models, with integration between the tools.
Electromagnetic analysis
ELECTRICAL MACHINES
Evaluate electric motors and operation control quickly using our simulation tools, analyzing different designs from an electromagnetic, thermal, and mechanical point of view.
Electronic reliability
DESIGN REVIEW
Ensure your product will perform as promised before it hits the market with our simulation-based workflows for electrical, thermal, and mechanical reliability challenges.
"Simulation proved to be essential for our process. Rocky tool proved to be the only one with a flexible fiber model and coupling to CFD, allowing us to analyze our equipment with the exact number of particles and shapes."
Kon Leung
Simulation Engineer
BISSELL Homecare Inc.
"Sub-Zero uses many different physics tools, and simulation with Rocky fits like a glove in our portfolio. The combination of DEM and CFD provides real information to understand the behavior of a specific dust particle on a specific surface within a given geometry. Our task is to create a design around that reality, developing a heat exchanger that is resistant to dust accumulation."
Anderson Bortoletto
Lead Engineer
Advanced Products Group, Sub-Zero Group Inc.
We are ready to both understand and solve your engineering simulation challenges
Ask for a quote now: an ESSS expert will contact you to point you in the right direction and help you successfully tackle your challenges in structures, fluid flow, heat exchange, optics, electromagnetism, and more to achieve a greater competitive advantage in the marketplace.
Ready to apply simulation and radically improve your products?
Learn more about the ESSS Institute courses