Simulation for the mining and metal industry
Optimize equipment for high efficiency and low maintenance, increase asset availability and reliability, and reduce costs due to failures and inefficiencies.
TALK TO AN EXPERT
Solve safety, automation, energy efficiency, environmental and cost management demands
Our simulation helps the mining and steel industries to reduce costs and sustainably increase productivity. Rely on our support to improve processes, predict behavior, and evaluate the performance of equipment virtually from the design phase to operating assets.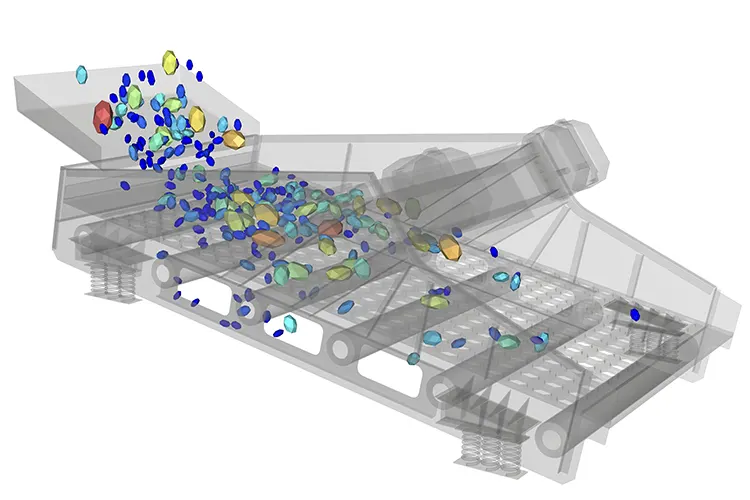 Develop high efficiency and low maintenance cost equipment by applying simulation
Digital twins and IIoT
PREDICTIVE MAINTENANCE
Analyze the future performance of equipment in operation through a virtual model of the equipment, identical to the physical model, helping to predict failures and scale the product life cycle.
Additive manufacturing
COST SAVINGS
Develop custom parts without losing scalability by applying integrated simulation from design to manufacturing, eliminating the material waste inherent in trial-and-error approaches.
Energy efficiency
SUSTAINABILITY
Improve energy use, meet regulatory requirements, and increase productivity in mills, chutes, vibrating screens, and other equipment, boosting the extraction and production process in mining.
Structural analysis
FEA SIMULATION
Analyze structures and equipment to determine stresses, strains, temperature distribution, nonlinear behavior, buckling, fatigue failure, crack propagation, natural frequencies and vibration modes.
Fluid Dynamics analysis
CFD SIMULATION
Study the mechanisms of processing and movement of ores and similar products to reduce the energy cost of your processes, reduce maintenance costs, and exercise control over the emission of particulates and waste.
Particulate matter
DEM AND COUPLING
Accurately and cost-effectively simulate particulate matter flow and perform multiphysics analysis using coupled DEM-CFD and DEM-FEA models, with integration between the tools.
"Applying simulation in the production of our prototypes was the best solution found for a mining industry like ours, as physical testing can be expensive and time-consuming. Simulation shows the result more accurately and in less time, and the development of new models becomes even more reliable."
Iván Escobar
Head of Engineering
TUMI
"Simulation has contributed greatly to our processes and customer confidence. We can analyze OEM part designs and simulate them with ESSS' tools, identifying significant improvements. In some cases, it was possible to reduce equipment shutdown days by 80% per year."
Miguel Montiel
Business Manager
Fundición Ferrosa
"Mining uses large equipment, and using ESSS' simulation tools allows us to reduce prototype development and physical testing that could cost millions. The accurate results obtained from simulation can advocate for necessary changes and upgrades with the assurance of a return on investment."
Ueld Nobrega
Master Engineer
Vale
We are ready to understand and solve your engineering simulation challenges
No matter the size of your company or your engineering problem, you can count on our highly qualified experts to point you in the right direction and help you successfully tackle your challenges, supported by the most advanced simulation tools on the market.
Ready to apply simulation and radically improve your products?
Learn about ESSS Institute