Particle Simulation (DEM)
Count on the best support in particle simulation applications to prevent equipment wear and loss and eliminate waste.
TALK TO AN EXPERT
The power of the discrete element method applied to industry challenges
By using the discrete element method (DEM), it is possible to achieve high precision and reliability in predicting the behavior of individual particles and bulk materials with virtual prototypes.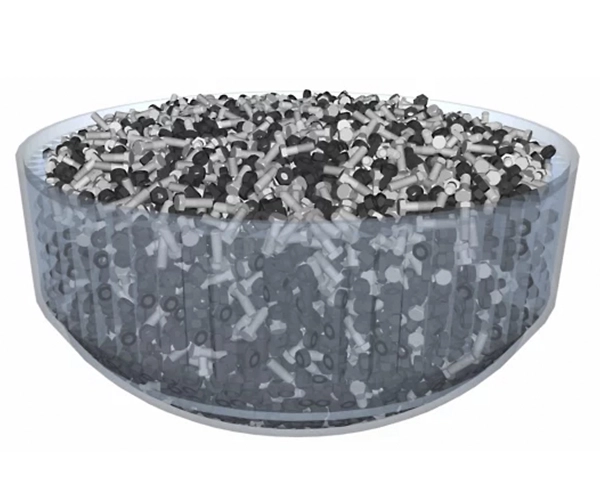 Apply simulation realistically considering particle shape and size
Transfer chute
Optimize design by analyzing mass flow, prevent blockages and misalignments, and observe how shear forces and impacts affect the surface of the geometries and belts.
Vibrating screens
Eliminate operational problems such as corrosion and clogging, undesired accumulation, and uneven feed distribution. Analyze particle segregation due to equipment design and operating conditions.
Crushers
Analyze particle breakage performance under operating conditions, study equipment life cycle, and test different materials for calibration.
Mills and crushers
Study load dynamics, flow characteristics, and discharge behavior to improve energy efficiency, yield, and mill lifespan.
Seed treaters'
Realistic particle representation allows precise soil and seed behavior modeling under various conditions.
Harvesting equipment
Simulate the behavior of specific crops such as hay, sugarcane, or wheat, and predict the performance of harvesting equipment.
Grain transport and storage
Evaluate storage problems related to particulate material flow, blockages, and failure, and prevent wear in the transportation equipment.
Feeders
Analyze how particles enter a system in various scenarios and eliminate waste in processes in different industries.
Mixers
Increase mixer equipment efficiency by enabling larger batch sizes, reduced operation times, and improved homogenization.
Ansys Particle Simulation Tools
Ansys Rocky
Simulate real-scale experiments, digitize 3D objects, and model realistic materials with the most complete particle simulation tool on the market.
Learn more
We are ready to understand and solve your engineering simulation challenges
Ask for a quote now: an ESSS expert will contact you to choose the best software for your needs and help you successfully tackle your challenges in engineering. Start now and become more competitive in the market.
Ready to apply simulation and drastically improve your products?
"Simulation has greatly contributed to our processes and customer confidence. We can analyze designs from original equipment manufacturers and simulate them using Ansys software like Rocky, identifying significant improvements. In some cases, we reduced the day of equipment shutdown by 80% annually."
Miguel Montiel
Business Manager
Fundición Ferrosa
"Through Ansys Rocky and Ansys optiSLang, we created a digital prototype of seed processing equipment, resulting in a significant acceleration of product design cycles. This represents a significant milestone towards designing reliable processing equipment on time."
Dr. Rakulan Sivanesapilla
Specialized Formulation Process Modeling
Bayer AG