Education
IESSS
More than 60 engineering simulation courses at your disposal.
ANSYS Mechanical - No Advanced Linearity of Materials
Presential
Structural Analysis
Over the last few years, ANSYS finite element software has established as a leader in the simulation of complex and non-linear behavior of structural materials. This course covers concepts of Non-Linearity of Materials, and focuses on exploring the variety of plasticity models available in ANSYS Mechanical, through practical examples.
METHODOLOGY:
Face-to-face intensive training with ESSS specialists.
PROGRAM:
Technology of elements;
Advanced metal plasticity;
Viscoplasticity;
Fluency;
Hyperelasticity;
Viscoelasticity.
Each course topic is followed by one or more workshops and hands-on exercises.
Instructors/Teaching Staff:
PREREQUISITES:
Basic knowledge of structural simulation with ANSYS.
CERTIFICATE:
The student will have access to the certificate of participation issued by the ESSS Institute, with international recognition and validity. Develop a differential in your career. Study at the largest simulation school in South America
NEXT CLASSES:
Register
PAYMENT METHODS:
Billet.
Credit Card.
GENERAL CONDITIONS: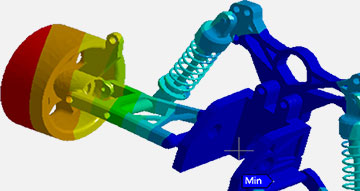 Introduction to Structural Simulation
For engineering who wish to start or improve the knowledge in Computational Simulation, the ESSS Institute has developed a complete course that links the Finite Element Method [...]