Education
IESSS
More than 60 engineering simulation courses at your disposal.
Post-graduation: Numerical Flow Analysis using CFD (Computational Fluid Dynamics)
| Portuguese |
Semi-presence
Computational Fluid Dynamics
Provides the necessary rationale for conducting flow analyzes using Computational Fluid Dynamics and theoretical and practical knowledge of immediate application in professional practice.
METHODOLOGY:
The focus of the course is the professional formation of the professional, using the associated theory as a tool of understanding, both of phenomenology and numerical and computational techniques. Thus, the student will understand the physics of the problems studied, being able to perform practical activities of simulation of complex and real systems of engineering.
The course has face-to-face classes and activities that will be carried out with the help of distance learning tools.
Classes: 3 face-to-face meetings on Saturdays from 9 am to 6 pm in the selected city.
Practical online classes: Held twice a week from 6 pm to 8 pm (GMT-3). All Online classes are recorded and students can review them at any time.
Pre-register and receive the complete course schedule.
PROGRAM:
Fundamentals of Fluid Mechanics
Introduction to Computational Fluid Dynamics (CFD)
Turbulent Flows: Fundamentals and Computational Modeling
Multiphase Flows: Fundamentals and Computational Modeling
Numerical Heat Transfer Modeling
Reactive Flows and Combustion: Fundamentals and Computational Modeling
Modeling of Coupled Physics (Multiphysics)
Seminars on Industrial Application Analysis
Instructors/Teaching Staff:
João A. Aguirre Oliveira Jr., M.Sc.

Bianca de Pley Almeida Teixeira

José Carlos Gonçalves Peres
PREREQUISITES:
Degree in engineering or similar courses. It is not necessary previous knowledge of computational tools.
CERTIFICATE:
Professional Level Certificate issued by the ESSS Institute, which is the largest Computational Simulation School in South America
NEXT CLASSES:
EaD/São Paulo (SP) - EaD

Data: 30/03/2019 - 21/11/2020

Horário: 09:00 - 18:00

Carga Horária: 360

Investimento: 25X R$990,00

Língua: Português

Local: EaD/São Paulo (SP) - EaD
Register
PAYMENT METHODS:
Billet
GENERAL CONDITIONS:
Computational Fluid Dynamics
ANSYS CFD - Computational Modeling of Multiphase Flows
This course is for professionals interested in understanding the phenomena associated with multiphase flows, as well as the main features of their computational modeling and [...]
Computational Fluid Dynamics
Introduction to Fluid Dynamics Simulation
This course provides participants with the basics of Computational Fluid Dynamics (CFD) giving them the necessary foundation to properly use the ANSYS FLUENT software.
[...]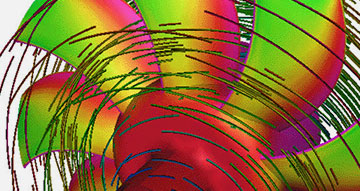 Computational Fluid Dynamics
Basic Course of Fluid Dynamics Simulation using ANSYS
| Portuguese |
The goals is to present the fundamentals of modeling and obtaining the results for fluid dynamics analysis with the use of ANSYS solutions.