Education
IESSS
More than 60 engineering simulation courses at your disposal.
Posgrado: Análisis Numérico de Flujos usando Dinámica de Fluidos Computacional | Español
EAD
Computational Fluid Dynamics
Comprenda la física de los problemas estudiados y sea capaz de realizar actividades prácticas de simulación y análisis de flujos utilizando la dinámica de los fluidos computacional.
METHODOLOGY:
El foco de los cursos es la formación práctica del profesional, usando la teoría asociada como herramienta de comprensión, tanto de los fenómenos como de las técnicas numéricas y computacionales. Así, el alumno comprenderá la física de los problemas estudiados, siendo capaz de realizar actividades prácticas de simulación de sistemas complejos y reales de la ingeniería.
El curso es dictado totalmente a distancia con clases transmitidas en vivo. Después de cada clase dictada en vivo, todo el contenido queda disponible para consulta en la biblioteca virtual del alumno. Principales características del curso de Posgraduación a distancia del Instituto ESSS:
→ No hay necesidad de que el alumno se desplace para tomar clases, proporcionando así ahorro de dinero y tiempo;
→ Grupos con número limitado y reducido de alumnos, dando la posibilidad de un alto nivel de interacción
→ Experiencia en la utilización de enseñanza a distancia de ingeniería utilizando la herramienta de simulación computacional;
→ Formación moderna y global, proporcionando interacción con profesionales de diversos países.
Las clases tendrán una duración aproximada de dos horas (02 horas), transmitidas dos (02) veces por semana los martes y jueves. La presencia durante la transmisión no es obligatoria, pero sugerimos altamente su presencia.
o GMT-6 | Início 17h00min | México, EUA, Nicarágua, El Salvador.
o GMT-5 | Início 18h00min | Colômbia, Perú, Ecuador, Cuba, Panamá.
o GMT-4 | Início 19h00min | Paraguay, Bolivia, Chile, Venezuela, Puerto Rico, Rep. Dominicana.
o GMT-3 | Início 20h00min | Argentina, Uruguay, Brasil.
Realice su pre inscripción y reciba el cronograma completo del curso.
PROGRAM:
Fundamentos de Mecánica de Fluidos
Introducción a CFD: De los Fundamentos a las Aplicaciones Industriales
Flujos Turbulentos: Fundamentos y Modelado Computacional
Flujos Multifásicos: Fundamentos y Modelado Computacional
Modelado numérico de sistemas térmicos
Flujos Reactivos y Combustión: Fundamentos y Modelado Computacional
Modelado de Físicas Acopladas (Multiphysics)
Seminarios en Análisis de Aplicaciones Industriales
Instructors/Teaching Staff:
Martin Poulsen Kessler, Dr.

Carlos Eduardo Fontes, Dr.

João A. Aguirre Oliveira Jr., M.Sc.

João Victor Barbosa Alves
PREREQUISITES:
Licenciatura en ingeniería o cursos similares. No es necesario previo conocimiento de herramientas computacionales.
CERTIFICATE:
El Certificado de Posgrado en Nivel Profesional es expedido por el Instituto ESSS que es la mayor Escuela de Simulación Computacional de América del Sur y ubicada entre las 5 mayores del mundo. ESSS asegura la calidad del curso a través de su experiencia y reconocimiento como referencia en Simulación Computacional.
NEXT CLASSES:
Español (EAD) - EAD

Data: 24/03/2020 - 08/02/2022

Horário: 00:00 - 10:00

Carga Horária: 360 horas

Investimento: 25X US$300,00

Língua: Español

Local: Español (EAD) - EAD

Português (EAD) - EAD

Data: 27/08/2019 - 22/07/2021

Horário: 18:00 - 20:00

Carga Horária: 360 horas

Investimento: 25X R$990,00

Língua: Português

Local: Português (EAD) - EAD
Register
PAYMENT METHODS:
GENERAL CONDITIONS:
No se cobra tasa de matrícula y la inversión indicada ya considera todos los materiales didácticos.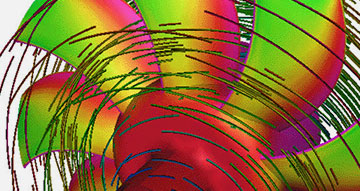 Computational Fluid Dynamics
Basic Course of Fluid Dynamics Simulation using ANSYS
| Spanish |
The goals is to present the fundamentals of modeling and obtaining the results for fluid dynamics analysis with the use of ANSYS solutions.