Structural simulation
We help you implement structural simulation to save costs, reduce the number of design cycles, and bring products to market faster.
TALK TO AN EXPERT
Solve complex structural engineering problems and analyze multiple design scenarios
Our FEA structural analysis solutions bring reliability in predicting the behavior and performance of complex products through virtual prototypes. It's the predictive power of Ansys with the local support of ESSS simulation experts to support design decisions and lower your physical testing costs.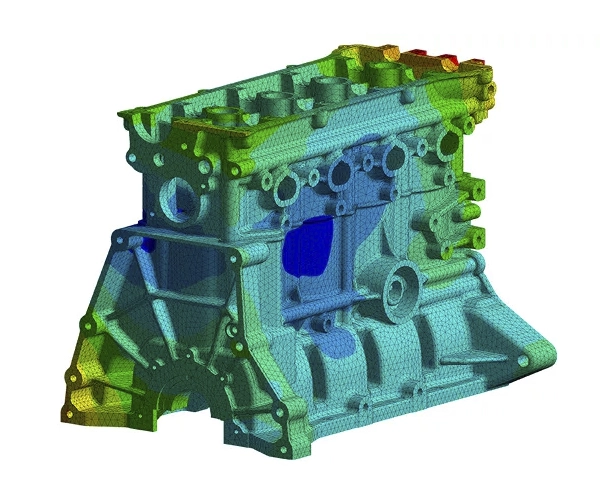 Apply simulation as early as the design cycle or to optimize products in operation
Vehicles
Simulate impact, shock and collisions, thermal and acoustic management, durability in gears and transmissions, brake squeal, mechanical strength, and more.
Structures
Assess structural integrity, heat transfer, fatigue resistance, vibration and buckling, and studies according to national and international technical standards.
Turbomachinery
Improve your fan, pump, and compressor designs by increasing efficiency, safety, and durability.
Electric Engines
Use our integrated simulation on a single platform to combine detailed electromagnetic, thermal, and mechanical analysis of electric motors.
Electronic Reliability
Solve your biggest thermal, electrical, and mechanical reliability challenges, such as shock and vibration failures and electromagnetic interference.
Rotating machines
Improve your fan, pump, and compressor designs by increasing efficiency, safety, and durability in rotodynamic analysis.
Thermal Analysis
Solve the most complex thermal challenges to predict the effects of temperature fluctuations in your designs.
Ansys Structural Simulation Tools
We are ready to both understand and solve your engineering simulation challenges
Ask for a quote now: an ESSS expert will contact you to point you in the right direction and help you successfully tackle your challenges in electromagnetism, and more to achieve a greater competitive advantage in the marketplace.
Ready to apply simulation and radically improve your products?
SUCCESS STORY
Red Bull Racing Honda challenged for first place in the 2021 Formula 1 with the help of Ansys simulations
Learn more
"Thanks to the Ansys software, we can perform several iterations on a model to find the optimal geometry, considering several load cases. This gives us the possibility to evaluate our design concepts and even find improvements and innovate before starting production. At the same time, it allows us to work on our standard equipment and keep it up to date, according to the industry's needs."
Fernando Díaz
Head of Engineering
RESEMIN
Learn more about the ESSS Institute courses