Teaching
IESSS
More than 60 engineering simulation courses at your disposal.
ANSYS CFD - Computational Modeling of Flows in Porous Media | Online
EAD
Computational Fluid Dynamics
This training aims to present the phenomena associated with the flow in porous media, as well as the main characteristics of its computational modeling and the adequate use of these resources in ANSYS commercial software.
Methodology:
This is an 8-session online training (100% EAD), with each presentation lasting approximately 2 hours. Each session is presented live and recorded content will be available for student review for 90 days.
Transmission of lessons: Tuesdays and Thursdays from 6 p.m. to 8 p.m. (GMT -3).
Make your pre-registration and receive the complete schedule of the course.
Program:
Governing Equations li>
1. Important Concepts li>
2. Darcy's Law li>
3. Darcy-Forchheimer equation li>
4. Ergun Equation
Computational Modeling li>
1. Considerations and Limitations li>
2. Governing Equations li>
3. Superficial and True Formulation li>
4. Relative Viscosity Models li>
5. Energy in Porous Medium li>
6. Porous Medium Turbulence li>
7. Initialization of Domain Flow li>
Case Studies li>
1. Fixed Bed Flow li>
2. Simplified Reactor Flow li> ul>

Instructors/Teaching Staff:

Martin Poulsen Kessler, Dr.

PhD in Mechanical Engineering from the Federal University of Rio Grande do Sul (UFRGS). Currently works as a CFD Consultant for ESSS.

Prerequisites:

Basic knowledge in fluid dynamics analysis with ANSYS software.

Certificate:

Once the course is finished, the student will have access to the certificate of participation issued by the ESSS Institute, with international recognition and validity.
Other courses
Get in touch by one of our phones or by email cursos@esss.com.br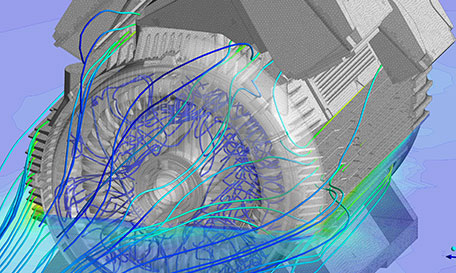 Computational Fluid Dynamics
Post-graduation: Numerical Flow Analysis using CFD (Computational Fluid Dynamics)
| Portuguese |
Understand the physics of the problems studied and be able to perform practical simulation and flow analysis activities using Computational Fluid Dynamics.